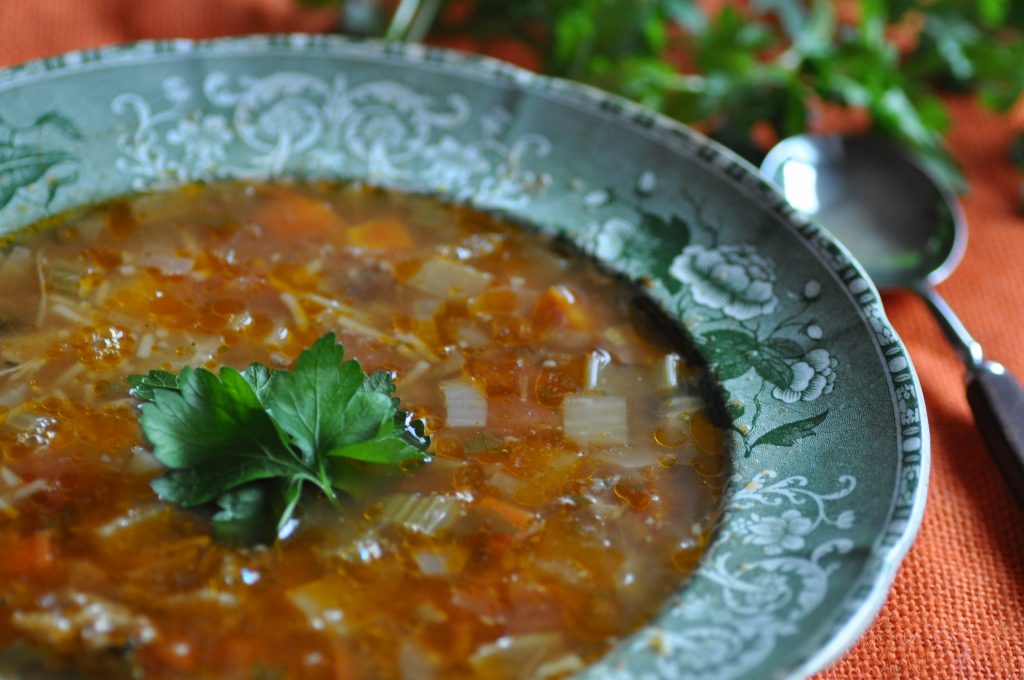 This was a family favourite in our house growing up. My mum would always get this soup started and then let simmer while she was on the farm helping my dad. When we came home from school the soup was nearly ready and my parents would come in shortly after we arrived.
The Winter months in Sydney were mild compared to Winter's in Malta and London (where I live now) but a warm soup/broth was always welcomed at this time of year growing up. I have to admit this soup grew on me as I didn't enjoy it at first. I am not sure why as it was and still is lovely.
My dad always enjoyed adding chunks of thick bread which were lathered in butter into the soup before eating. A very traditional Maltese/Mediterranean thing to do.
Any fatty cuts of meat are good for this soup but this time I used ox tail. It was all that was left at my local Middle Eastern/Mediterranean store. It is not what I would have used in the past but it was great and I will definitely be using again.

Brodu tal-laham (Meet broth)
A great Maltese Winter warmer. Add in some pasta or as my dad used to love add in some chunky pieces of bread lathered in butter! I used ox tail but any fatty cuts of meat with bones is fine!
Author:
amaltesemouthful.com (Marlene Zammit)
Ingredients
700 grams of fatty beef with bones chopped in large pieces
2 small onions chopped
1 clove garlic crushed
1 large tomato chopped
1 tablespoon tomato paste
3 small celery stalks chopped
1 kohlrabi chopped
1 large potato chopped
3 carrots diced
1 beef and 1 vegetable stock cube
2 litres of boiled water
Salt and pepper
Small handful of rice or small pasta
Small bunch of parsley chopped
Olive oil for frying
Olive oil
Instructions
Fry onion for a few minutes until softened.
Add beef and fry until lightly browned.
Add in other ingredients except for the water, stock, pasta and parsley.
Fry for a further five minutes.
Add in stock and water. Season and bring to a boil and then simmer for 3 hours.
Add in pasta or rice and simmer for a further 15 minutes.
Add in parsley.
Serve immediately and if wish you can also add in some large chunks of bread lathered with butter.