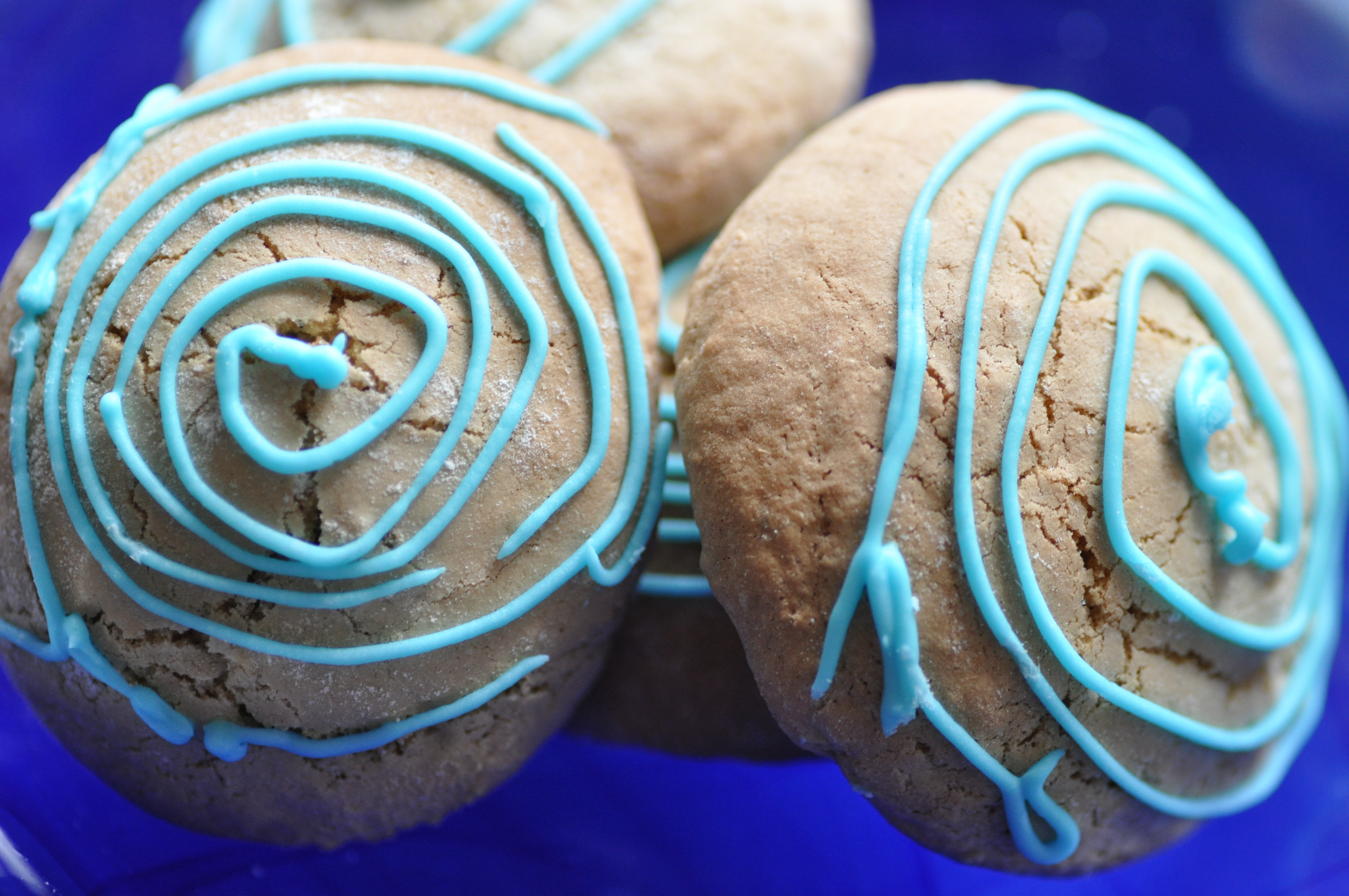 Ooh, every time I hear the words biskuttini tar-rahal, I get excited. My childhood is brought back to life with these biscuits. One of my favourites! 
These biscuits known to us as village biscuits or also Christening biscuits are a wonderful little treat. Cinnamon, clove, citrus and aniseed scented biscuits traditionally served at Christenings but made all year round in our household. Swirls of blue or pink icing traditionally are used depending on whether the child is a boy or girl. Many other light colours are now also used to decorate these biscuits.
They really do sum up the essence of being village biscuits as that is were my family is originally from in Malta, and also due to the fact that we made these often.
The one thing I notice about our biscuits is that a lot of them contain similar ingredients – cinnamon, cloves, aniseed (or similar spices) and citrus. However, each biscuit is different in it's own unique way. Usually just one other ingredient is added or eliminated, and you then magically have a completely different biscuit! Maltese households would have used ingredients easily available to them and then came up with different types of biscuits (also with the help of nieghbouring country culinary influences).
The dough mixture is quite wet so you may need to use a little flour to form the biscuit balls. Cover with swirls of royal icing in any colour you wish once the biscuits are completely cool (although traditionally only pink and blue were used).
Village biscuits - Biskuttini tar-rahal
Wonderful phsychedelic biscuits traditionally served at Christenings. Village biscuits are a wonderful little treat. The mixture is quite wet so you may need to use a little flour when forming into balls
Author:
amaltesemouthful (Marlene Zammit)
Ingredients
4 eggs separated
400 grams light brown sugar
550 grams flour
Zest of 1 lemon and 1 orange
3 tablespoons lightly crushed aniseeds
1 teaspoon cinnamon
1 teaspoon cloves
1 large teaspoon baking powder
Extra flour when rolling
For the royal icing:
300 grams sifted icing sugar
½ lemon juiced
1 egg white
food colouring
Instructions
Preheat oven to 230oC
Beat the egg whites with an electric mixer until stiff.
Slowly add in the sugar and continue to beat.
Mix in the egg yolks
Beat everything else with the mixer except for the flour.
Using a baking spoon add in the flour and mix well.
On a baking tray lined with baking paper, place balls of the mixture. You may need to use a little flour on your hands when forming the balls as the dough is quite soft. Make sure to leave a little room next to each biscuit too as they do rise and spread.
Cook for about 15 minutes or until golden brown.
Allow to cool and then make the royal icing by mixing the royal icing ingredients and some food colouring.
Using a piping bag make swirls of icing on top of the biscuits.
Allow the icing to set and then serve!