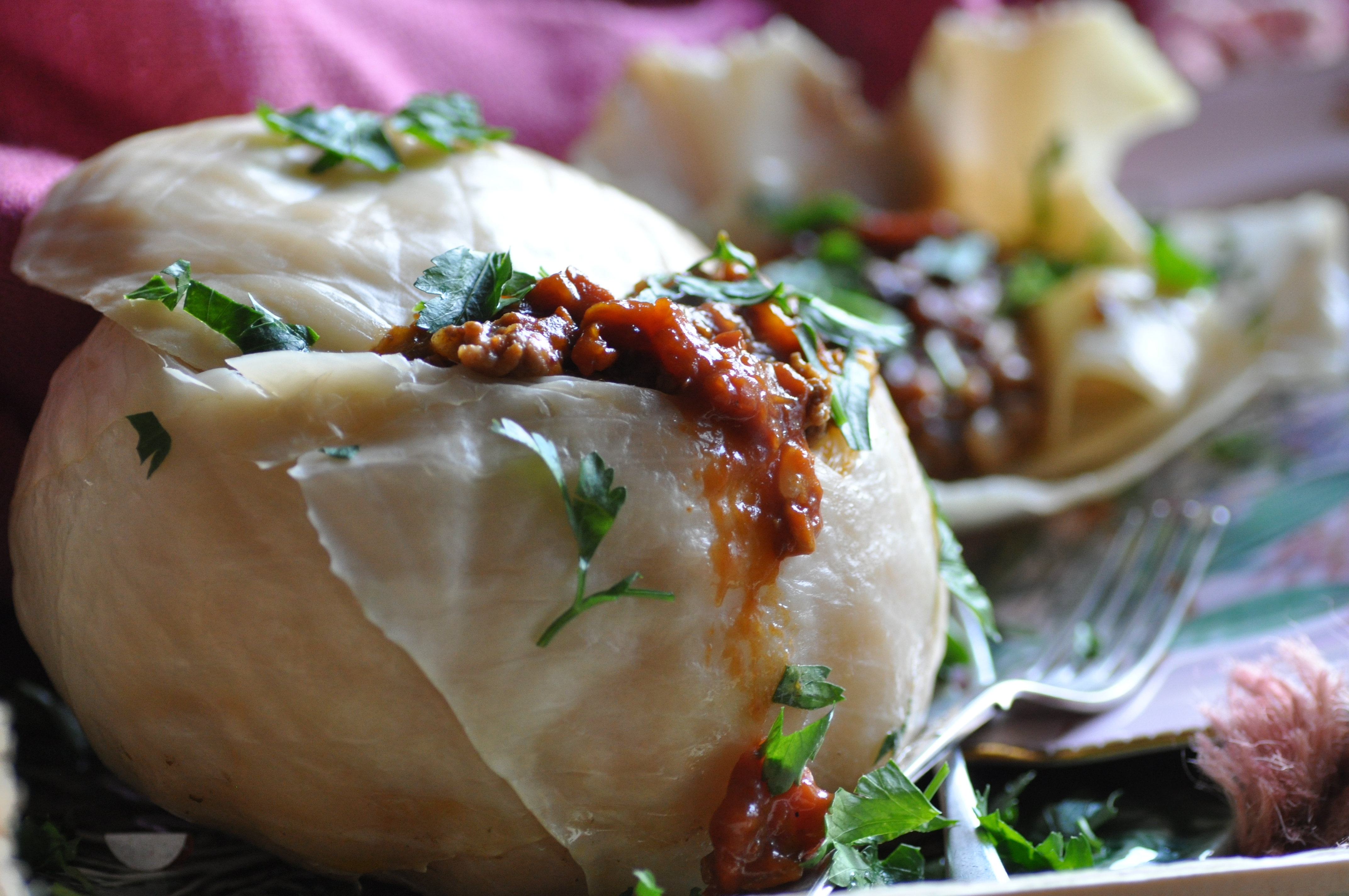 A recipe I recently heard about from a relative. Although perhaps not traditionally Maltese, we do love stuffing many vegetables in this way. A much easier way than preparing cabbage rolls, quicker and just as tasty. Fennel seeds add the perfect aroma to this dish and go perfectly with the cabbage!
Let's go straight to the recipe!
Stuffed white cabbage with a Maltese tomato piquant sauce
An unusual way of serving the humble white cabbage but it sure is delicious! Not traditionally Maltese as such, although we do love filling many other vegetables including peppers, marrows and aubergines. Finished off with a Maltese piquant sauce, this is one tasty dish. You will need a large casserole dish that can fit two medium sized cabbages.
Author:
amaltesemouthful.com
Ingredients
The filling:
2 medium sized white cabbages
½ onion diced
2 cloves garlic crushed
2 tsp fennel seeds
500 grams mince (I used half pork mince and half beef mince but you could use either)
2 tablespoons tomato paste
1 cup cooked rice (use brown or white)
1 lightly beaten egg
Handful of grated cheese
5 cups chicken or vegetable stock
Salt and pepper
Olive oil
For the tomato sauce:
½ onion diced
2 cloves garlic crushed
2 tablespoons tomato paste
2 large tomatoes chopped
2 tablespoons vinegar
Pinch of sugar
Salt and pepper
Olive oil
2 tablespoons chopped parsley
Instructions
Firstly, take your cabbages and cut into the top of them to produce two large holes which will be filled with the mince mixture. Leave some of the cabbage which you have cut to place on top of the cabbage once you have filled with the mixture. Don't throw away any remaining cabbage as this can be used in soups, fried or steamed.
In a frying pan, add a little oil and fry the onions for about 5 minutes until soft.
Add the garlic and fennel seeds and fry for a minute.
Add in the mince and fry for a further five minutes until browned.
Finally add in the tomato paste and fry for 2 minutes more.
In a medium sized bowl add the egg, rice, cheese and meat mixture. Season with salt and pepper.
Fill each cabbage with equal amounts of your meat mixture. Add the top part of the cabbages that you set aside on top of each of the cabbages.
Place both cabbages in the casserole dish, add in the stock and bring to a boil on the stove top. Then turn the heat down to a simmer and leave for 2 hours.
While the cabbages are simmering away, you can prepare your tomato piquant sauce.
Fry the onion in a pan with the olive oil for a few minutes until translucent.
Add in the cloves of garlic and tomato paste. Fry for a further minute.
Add in all the other ingredients except the parsley and cook on a medium heat for about 15 minutes.
Finally add in the parsley and cook for a minute or so.
Once the 2 hours is up check that the cabbage has been cooked through. If not you can leave for a little longer.
Garnish with parsley, cut into wedges and serve with the tomato piquant sauce.