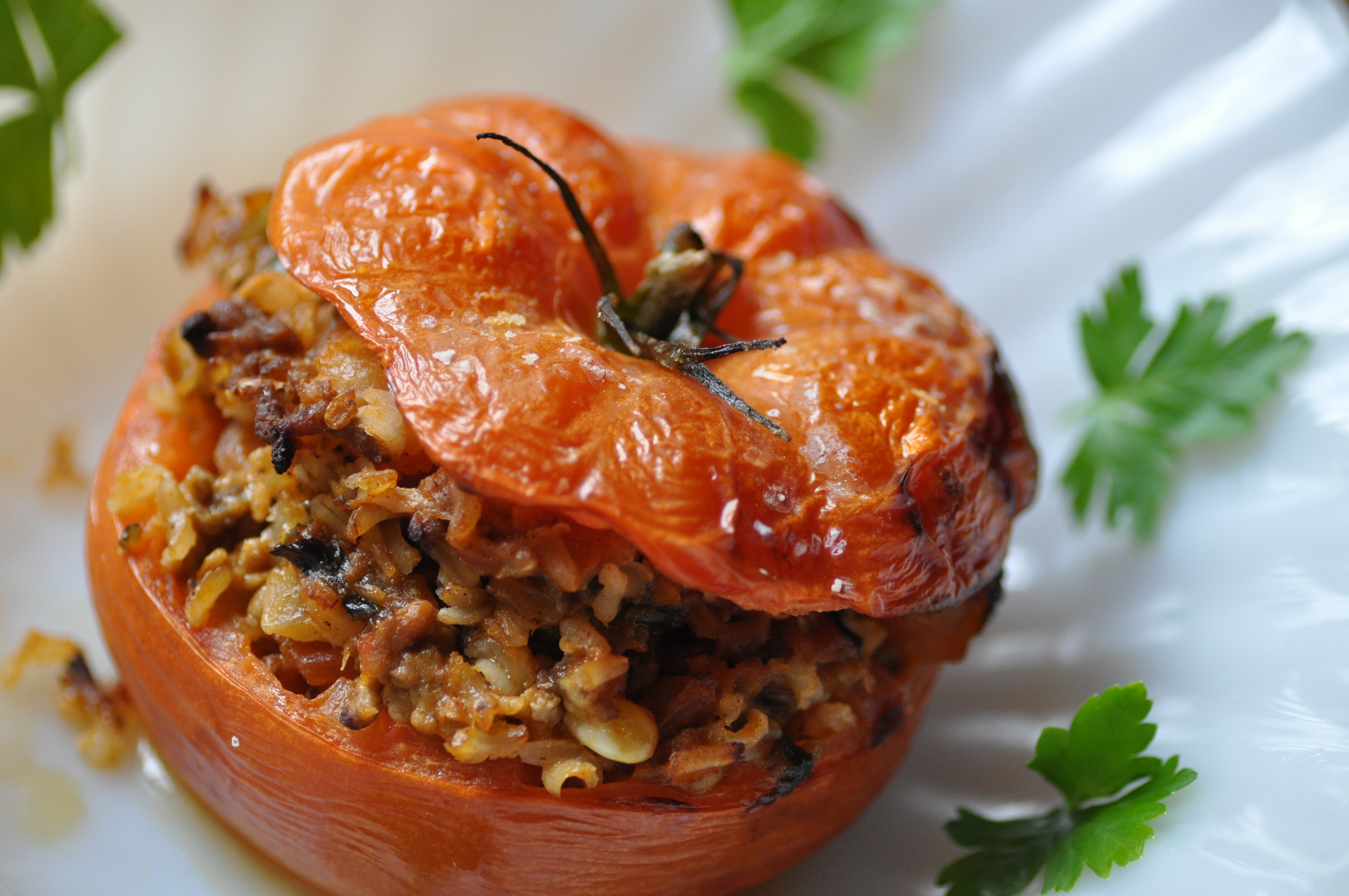 Our stuffed/filled vegetable obsession continues. I love this recipe and large beef tomatoes are coming into their own right now. It is still not warm enough here in London so this baked version with mince and rice is perfect, although we love to also make stuffed tomatoes differently when the Summer kicks in!
I don't make this enough but my two girls loved these filled version of beef tomatoes which we are currently finding available. A little preparation time taking out the flesh of the tomatoes will make this a stand out dish on any kitchen table.
I have added a little cinnamon and some pine nuts to this recipe. Traditionally you usually see cinnamon and pine nuts used in savory dishes in other cuisines, especially in the Middle East, however we have them readily available so there is no reason not to use a little in our stuffed tomatoes.
Happy tomato stuffing!!

Stuffed tomatoes with mince and rice
A wonderful way with large beef tomatoes. I have used a mixture of pork and beef mince but you can also use lamb mince if you like. Maltese cuisine doesn't use lamb mince very often if at all but there is no reason you can't use it. I have also added a little cinnamon and pine nuts to add a little more flavour.
Author:
www.amaltesemouthful (Marlene Zammit)
Ingredients
8 large beef tomatoes (tops cut off and flesh take out - you will need to keep this )
Flesh of the tomatoes chopped
100 grams brown rice boiled for 25 min or until cooked
1 onion diced
500 grams pork and beef mince (I used a mixture of mince but you could just use pork or beef)
2 rashers bacon chopped
2 cloves garlic
1 tablespoon kunserva (tomato puree)
2 spring onions sliced
2 tsp cinnamon (or more if you wish)
3 mushrooms diced
¼ red pepper diced
100ml chicken stock
Chopped mint/basil/parsley
Handful of pine nuts.
50 grams grated cheese
Olive oil
Salt and pepper
Foil
Large baking dish
Instructions
Firstly prepare your tomatoes and cook your rice. Reserve the tomato flesh and chop this too.
While you are doing this in a large frying pan start with frying the onions with some olive oil for a few minutes until soft and translucent.
Add in your mince and fry until brown (about 5 minutes).
While you are frying your mince, in a small pot fry your bacon until browned and starting to crisp up. Set aside.
Once the mice is browned add in the kunserva, cinnamon, spring onions and garlic.
Add in the mushrooms and red pepper and tomato flesh. Cook for about ten minutes on low heat until the tomato flesh has softened.
Preheat oven to 180oC.
Now add in the cooked rice, bacon, pine nuts and herbs. Mix well and then stir in the chicken stock.
Add in the cheese and mix well. Season with salt and pepper.
Place the tomatoes in a large baking dish. Fill each tomato with all of the mixture. Place the tops of the tomatoes back on to each tomato.
Drizzle with olive oil and salt.
Cover with foil.
Place in the oven for half an hour.
After the time is up remove the foil and bake in the oven for an additional half an hour.
Enjoy warm and if any left over enjoy even more the following day!