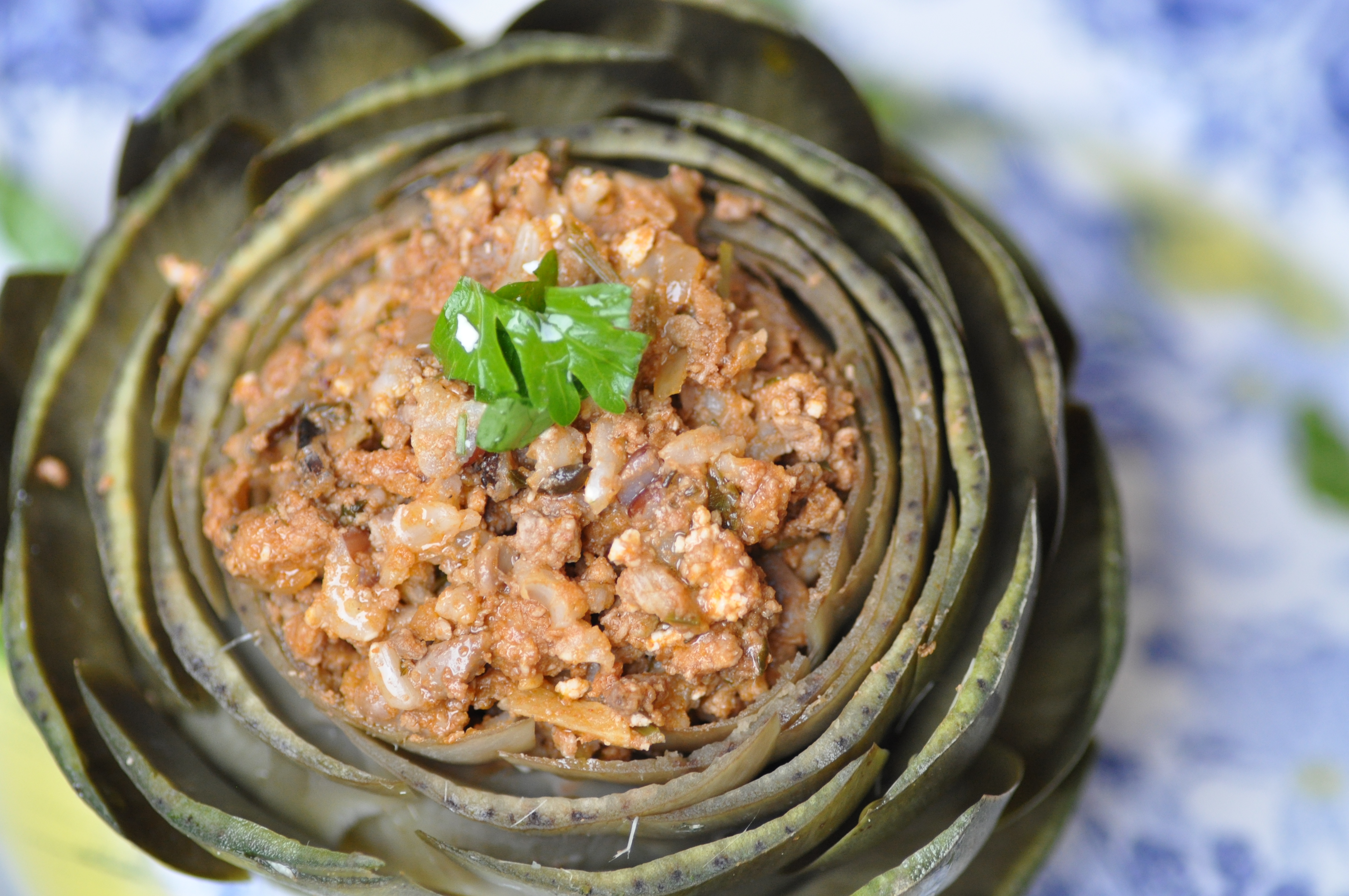 Stuffed artichokes are a favourite meal in many  Maltese households. This is not the most common way we stuff our artichokes but it is an old traditional recipe that my family loves. Mince, chicken livers, a little rice, tomato paste and a few other ingredients are perfect for stuffing artichokes. Removing the choke is painstakingly annoying but really is worth it. 
I have two other posts on stuffed artichokes but I wanted to do something a little different this time instead of using my usual and easier parsley mixture. This traditional recipe is not done that often purely because our other way of stuffing artichokes is easier. A little time and effort is required to remove the inner choke of the artichoke.
My mixture for stuffing the artichokes is made up of pork mince, chicken livers, white wine, a little rice, onions, garlic, parsley, thyme and tomato paste. It goes perfectly with the artichoke. Not everyone is a fan of chicken livers or even pork. You don't need to use the chicken livers and if you don't want to use pork then beef mince can be used. Traditionally rice is not used in this recipe either, although my family have always included it. If no rice is used then you can always serve this with some boiled potatoes.
I have also included some Maltese peppered dried gbejniet (Maltese cheese) in my mixture before briefly putting into the oven. You can just use any grated cheese if you can't get any Maltese cheese.
The first process involves removing the choke from the artichoke. It is the hairy part in the middle of the artichoke which is not edible and needs to be removed for this recipe. Following is a brief description of how it is done:
Wash your artichoke and with a sharp serrated knife chop the top of the artichoke. With a pair of sissors also trim the tops of the outer leaves.
Now take a sharp knife and cut around the purple leaves. You may need to dig into the artichoke slightly. Using a teaspoon remove the purple leaves and the hairy choke of the artichoke. If it is still a little difficult to remove then take your knife again and cut a little further into the artichoke. The choke part should then be able to be pried out.
You are then left with your artichoke ready to be simmered and filled with the mince mixture. Dip in lemon juice to also prevent the leaves from browning while you get the rest of your ingredients ready. 
Stuffed artichokes of a different kind
This recipe makes 8 stuffed artichokes. This might be too many for you and/or your family so just use 4 artichokes only and use half the mixture for something else such as stuffing peppers the following day. The mixture can also be frozen and used another time. Livers may also not be your thing and you don't have to use them if you don't want to. Beef can also be used instead of pork.
Author:
amaltesemouthful (Marlene Zammit)
Ingredients
8 artichokes, chokes removed
2 small handfuls of rice (I used brown rice but white long grain rice can be used)
1 onion finely diced
2 garlic cloves crushed
2 tablespoons tomato paste
400 grams chicken livers
450 grams minced pork
500 ml white wine
Small bunch parsley chopped
2 tablespoons dried or fresh thyme
2 small dried Maltese peppered cheeselets or 2 handfuls of grated cheese
Olive oil
Salt and pepper
Instructions
Place the artichokes in two large pots and bring to a boil. Reduce and simmer for half an hour.
While this is happening place the rice in a pot with some water and bring to a boil. Reduce to a simmer until cooked. Refer to package for instructions.
Prepare your mince mixture.
Take a large fry pan and with a little olive oil fry the onion for five minutes until soft.
Add in the garlic and fry for a minute.
Add in the tomato paste and fry for a further minute.
Add in the chicken livers and pork and fry for a few minutes until browned.
Slowly add in the wine gradually and continue frying for about ten minutes.
Add in the parsley, thyme, rice and cheese.
Mix well.
Now take your artichokes from the pot and place in a baking dish.
Preheat the oven to 160oC.
Fill the artichokes with the mixture and bake for about 15 minutes or until the top of the mixture is slightly browned.