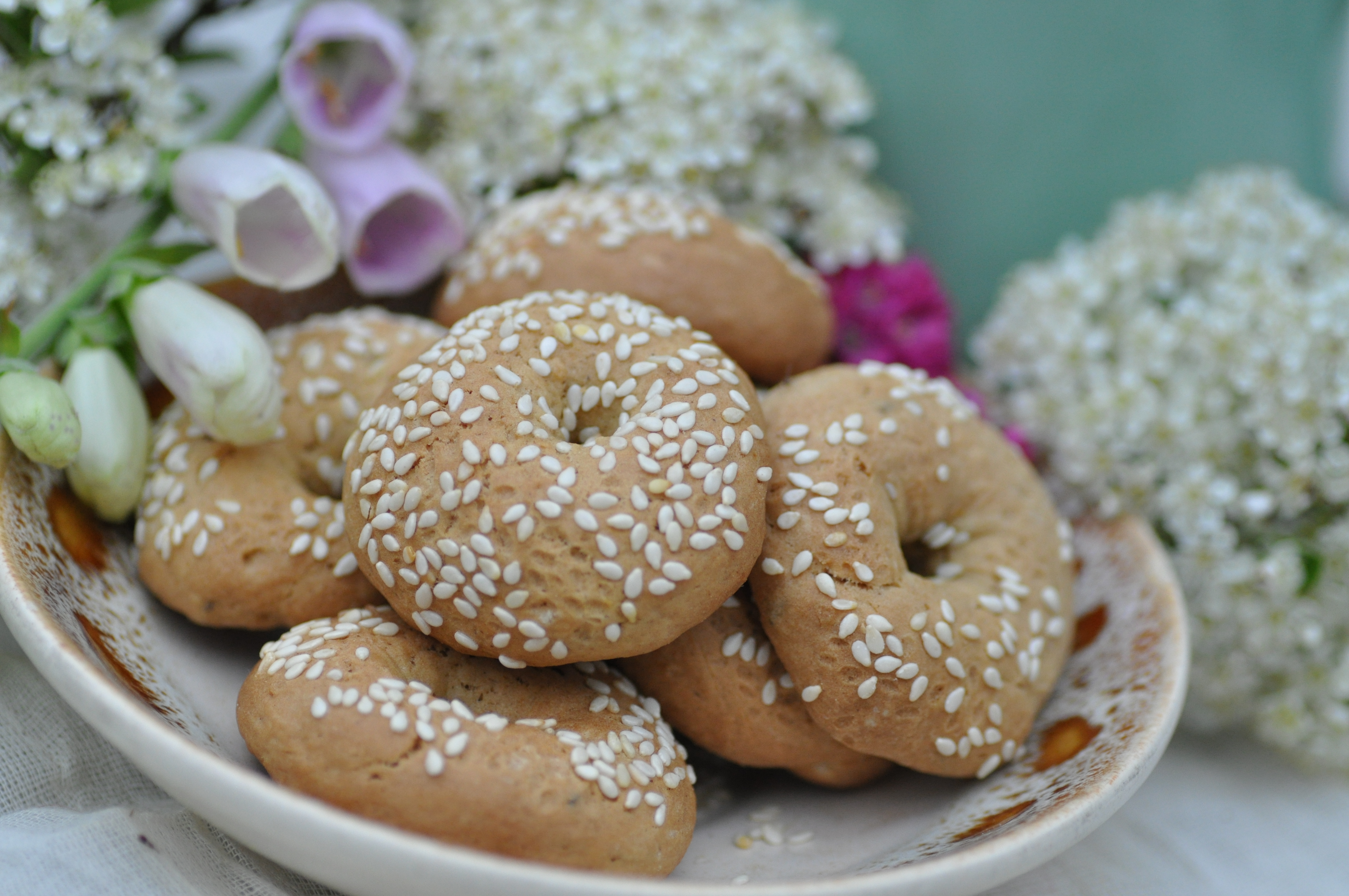 You are in for a real treat with these biscuits. These wonderful sesame biscuits were one of the many Maltese biscuits my mum would bake when I was younger. Mum was here in London to tell me how it was done.
One thing I need to point out is that Maltese people love to discuss there different recipes and how it should be done. To each individual it is the right way or the best way and nothing is going to change there mind. I remember and still have my own discussions with family on the best way to cook or bake rabbit, on how to make figolli (one of our special Easter biscuits) and what should or shouldn't go into our countless number of traditional soups.
This was the case with these biscuits and my mum. I have to agree with her on these biscuits though. They came out just how I remember and I made more than enough to share with friends.
We discussed in detail what juice should be used and what spices too. I had thought that orange and lemon juice is used but my mum insists that you need to omit the lemon juice. She insists that instead you should use a clementine (or anything similar such as a mandarin or satsuma). The other ingredient which is important to add into the biscuit mixture is cloves, but more importantly caraway seeds (not aniseeds as I thought was the case but some do use). It's what makes the biscuit taste amazing she insists along with the coating of sesame seeds.
Her recipe actually came from another aunty of mine in Australia. She didn't have the recipe with her but she remembered what was in it. A few other ingredients and there we had it, a batch of qaghaaq tal-gulglien biscuit dough. All we had to do was form them into rings and dip them in sesame seeds, before baking.
I have made these biscuits quite small as that is the way I prefer them (I always try not to eat too many). Usually when you buy them in shops in Malta or other parts of the world they are baked into large doughnut sized rings or even in the shape of the number eight. The choice is yours on how to make them.
We especially enjoy eating these biscuits by dunking them in tea, coffee or any warm drink. They are not the only biscuits we enjoy dunking but this is definitely our favourite. They are however great on there own.
My dough is quite soft so have a little flour on hand when rolling to help make it easier. Remember to also space them out a little when baking as they do rise and get larger when in the oven.

Sesame biscuits - Qaghaq tal-gulglien
One of our wonderful Maltese traditional biscuits my mum would make. I make them quite small but traditionally these were made in large doughnut sized rings or in figure eights.
Author:
www.amaltesemouthful.com (Marlene Zammit)
Ingredients
550 grams flour
1 tsp bicarbonate soda
1 tsp baking powder
200 grams butter
150 grams caster sugar
2 eggs
Zest and juice of 1 orange and 1 clementine
1 teaspoon ground cloves
1 tablespoon caraway seeds
Extra flour for assisting in making the round biscuit shapes
1 small bowl of sesame seeds
Water and a pastry brush
Instructions
Sift the flour, bicarb soda and baking powder.
Rub in the butter with the sifted flour mixture.
In a separate bowl mix with a hand processor the sugar, eggs, orange and clementine juice and zest, and ground cloves.
Add in the carraway seeds to the wet mixture.
Mix this into the flour mixture gradually until a soft dough is formed.
Once you add in the wet mixture to the flour mixture, if the dough is too wet then just add more sifted flour.
Preheat the oven to 190oC.
Using some flour if needed take a small golf ball sized piece of dough and form into a small thin sausage. Join the ends to form a circle.
Brush lightly with some water on the top of the biscuit and dip into the sesame seeds.
Place on a baking tray with baking paper..
Once the tray is filled place in the oven for 10 to 15 minutes until golden brown.