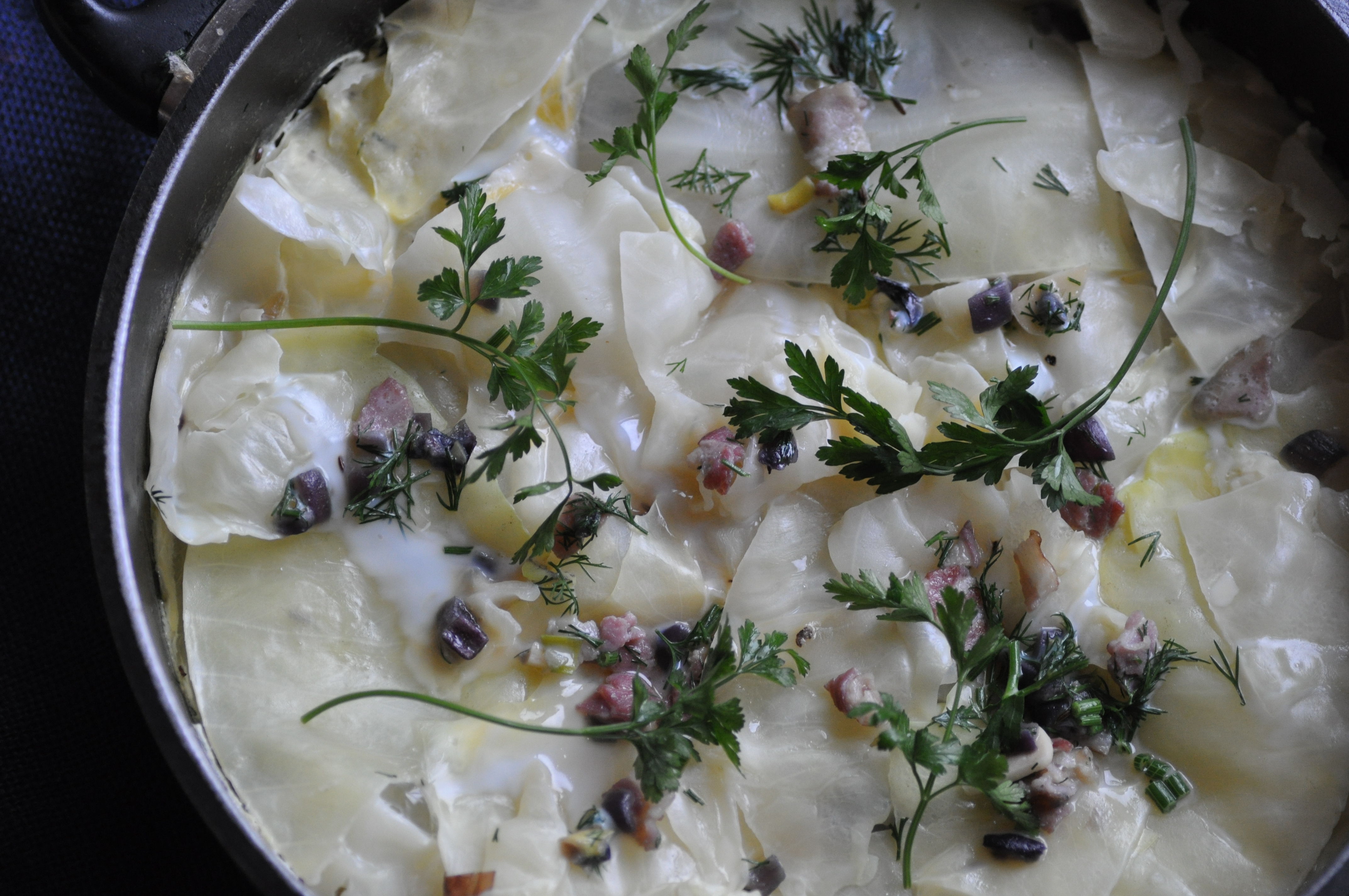 My parents grew cabbages, and lots of them. This baked cabbage dish reminds me of the farm back home. It was one of those signature dishes my mum made over and over again. It is another example of how our recipes are a reflection of what we have in season, as well as a few other basic ingredients, to make meals which have become our own.
Kabocci (cabbages) was a common word at home. What are you growing at the moment, "kabocci", my father would always say. "Let's go pick the kabocci". What always followed – "What's for dinner", "kabboca".  Yes please!
My mum's dish was easily made, The cabbage was simmered first, and then slowly fried in a large pan with eggs, bacon, onion, garlic and herbs. A cabbage cake of sorts.
When I recently made this dish, it instilled in me the desire to grow some vegetables. I have been meaning to start a vegetable garden for some time but hadn't got around to it. I had bought seeds a few years ago and most of them have expired. However, I thought what better time to try as we are soon commencing renovations on our house and it won't hurt to dig up my garden.
I have bought a small glass house to grow my seeds, lots of compost, seed trays and a few more garden tools so that I can dig into the garden. I am on my way to my own small vegetable garden and I am loving every minute of it. I currently have cabbages, lettuce, broad beans, chard, carrots, asian greens, courgettes, squash and potatoes growing. Hoping to also have corn, beans, spinach, leeks, onions, tomatoes, cucumbers and cauliflowers too. I really am enjoying it. I never thought I would be a farmer (which I am not) but I do love my small garden becoming a little piece of home. I can see how farmers love being farmers. It really is wonderful watching something grow that you have nurtured from the beginning.
I have used dill in my recipe as I love the taste of dill and cabbage together. However, I am always a little miffed why we don't use that much dill in our recipes, if any at all. Mint, parsley, oregano, marjoram, thyme, fennel seeds, aniseeds, carraway seeds are commonly used in our cooking, but dill doesn't seem to be. It is such a common herb used in other countries close to Malta but it never seemed to have made it across the ocean. If anyone does use it or disagrees with me then please let me know. I am always keen to hear other's thoughts.

Nanna's Maltese fried cabbage (kabocci moqli)
A simple cabbage, and a few other ingredients make cabbage far from boring!
Author:
www.amaltesemouthful.com (Marlene Zammit)
Ingredients
1 whole round cabbage, quartered and leaves separated
2 onions diced
2 cloves garlic crushed
3 rashers bacon diced
8 eggs beaten
Small bunch chopped herb or your choice (I used dill and parsley but you could use fennel or even fennel seeds)
Olive oil
Salt and pepper
Instructions
In a large pot of simmering water, cook the cabbage for about 5 - 8 minutes to soften.
While this is happening fry your onion, bacon and garlic in a large heavy frying pan for about 8 minutes until cooked. Add the herbs in the last minute of cooking and then take out of the pan and set aside.
Remove and drain the cabbage.
In the large frying pan add enough olive oil to coat the base.
Add a layer of cabbage, then a layer of your onion/bacon mixture, plus some seasoning.
Keep doing this until your last layer on top is cabbage (you will have about 4 layers of cabbage and 3 layers of onion/bacon mixture).
Add in the eggs and some more olive oil on top which will spread throughout the layers.
Season with salt and pepper.
Cook on low/medium heat with the lid on for about half an hour or until the eggs have fully cooked.
Cut into pieces and serve. A great side dish with chicken