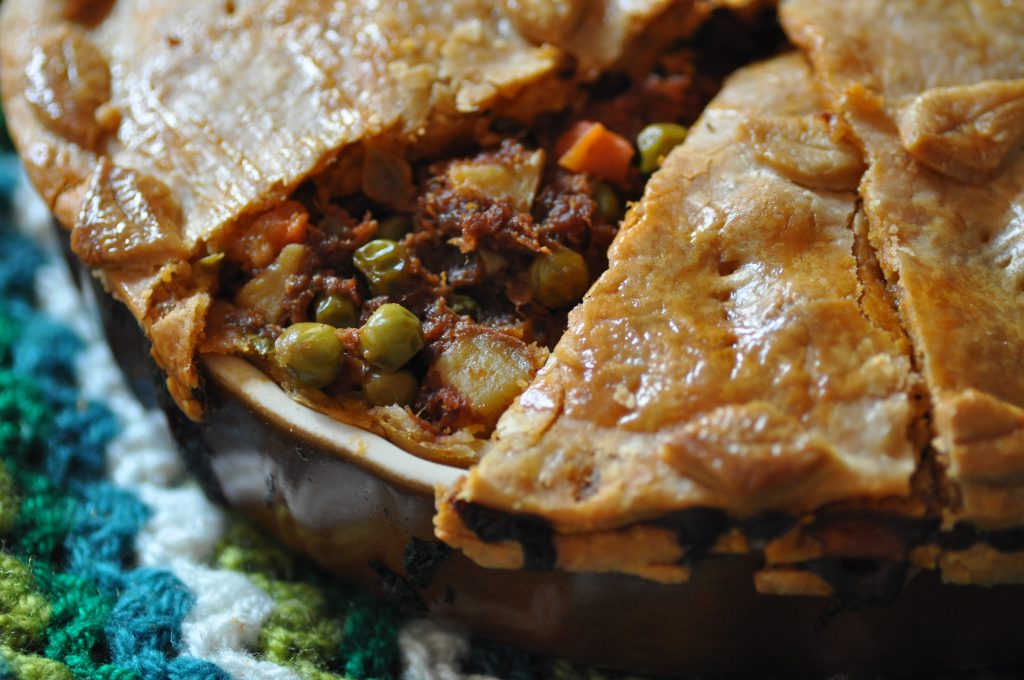 A comforting meal whether the climate is cold or not. A recipe handed down from recent times when meat was scarce in Malta. Tinned corned beef has never tasted so good! 
I visited a friend in London last year who was originally from Malta. I had asked her what some of her mother's most common home cooked Maltese meals were. Corned beef pie was one of the dishes she had fond memories of her mother making. This was a time when meat was more scarce and it was during WWII. Cheaper cuts of meat were used to make meals for the family. Corned beef pie was one meal which was usually made and the use of tinned corned beef has been kept in the pantry in many Maltese family homes ever since.
My dad was born just after WWII but loved tinned corned beef. I am sure it was something he grew up having in Malta and something he past on to us in Sydney, Australia. He loved to have it as a snack on Maltese style bread with olive oil and a good dose of Tomato paste (kunserva). It was also something he took with  him when he went fishing.  Again, eaten as a snack on bread while waiting for his big catch to happen.
Corned beef pie is simple to make and only requires a few ingredients. The one important thing is to use canned marrowfat peas in the dish instead of young picked  peas which have been frozen or tinned. Marrow peas are peas which have been left to dry in pods on the plant and then picked. They are then rehydrated with water and tinned or frozen. You can buy them dried but you will need to rehydrate them yourself. It does taste better than using younger picked peas. If you don't have them don't beat yourself up over it. Just use the frozen or tinned peas you have. No need to waste anything. I have also used ready rolled short crust pastry which was bought. You can make the pastry yourself (I have a recipe under my pumpkin pie recipe) if you wish and it is ideal. However if time is precious then ready bought pastry is fine.
A few other variations can be made to the recipe if you wish. I used diced potato in my corned beef mixture but sometimes and most often this is mashed into the corned beef. The choice is yours. I added some herbs (mint, parsley and basil) but that is your choice. Another option is to add some curry powder but I didn't this time.  I have added some carrots too but I usually don't. It was just that I had a few too many in my fridge.
Our corned beef pie is different to other corned beef pie recipes that you find in that we add lots of tomato paste (kunserva) in our corned beef mixture. Whoever invented tomato paste was a genius!
I am sure this dish is an old time favourite for your family.

Maltese corned beef pie - Torta tal-bulibif
A great old Maltese family favourite. Make sure to try and use rehydrated marrowfat peas if you can. Ready prepared bought pastry can be used or you can make your own (you can find a recipe in my pumpkin pie recipe)
Author:
www.amaltesemouthful.com (Marlene Zammit)
Ingredients
1 medium sized potato diced (1cm cubes)
1 onion finely chopped
2 cloves garlic chopped
200 grams tomato paste (1 tube)
2 carrots chopped (optional)
680 grams tinned corned beef (2 cans)
1 can marrowfat peas (approx 250 grams)
2 sprigs each of chopped mint, parsley and basil
2 rolls shortcrust pastry (about 640 grams - any left over can be used for something else)
Beaten egg to brush on the pastry
Olive oil for frying
Salt and pepper
Large pie dish
Instructions
Add the diced potatoes to a pot of cold water. Bring to a boil and then simmer for 10 minutes.
Drain and set aside.
While this is happening fry the onion in a frying pan with some olive oil for a few minutes.
Add the garlic and tomato paste and fry for a minute.
Add in the carrots and fry for a further five minutes.
Mix in the corned beef (break with a wooden spoon to separate) and peas.
Add in the herbs and slowly mix in the potatoes.
I like my potatoes to be kept separate but if you prefer you can mash these up first and then add into the corned beef mixture).
Season with salt and pepper.
Preheat the oven to 180oC.
Using one of your pastry rolls place into a pie dish to line making sure the sides are also lined with pastry.
Prick the base several times with a fork.
Add into the pie dish your corned beef mixture.
Cover with the other sheet of pastry and trim the edges with a knife.
Any remaining pastry can be used to decorate the pie if you wish.
Prick the top of the pie with a fork several times.
Brush with a beaten egg.
Place in the oven for approximately 45 minutes until the top is golden brown in colour.