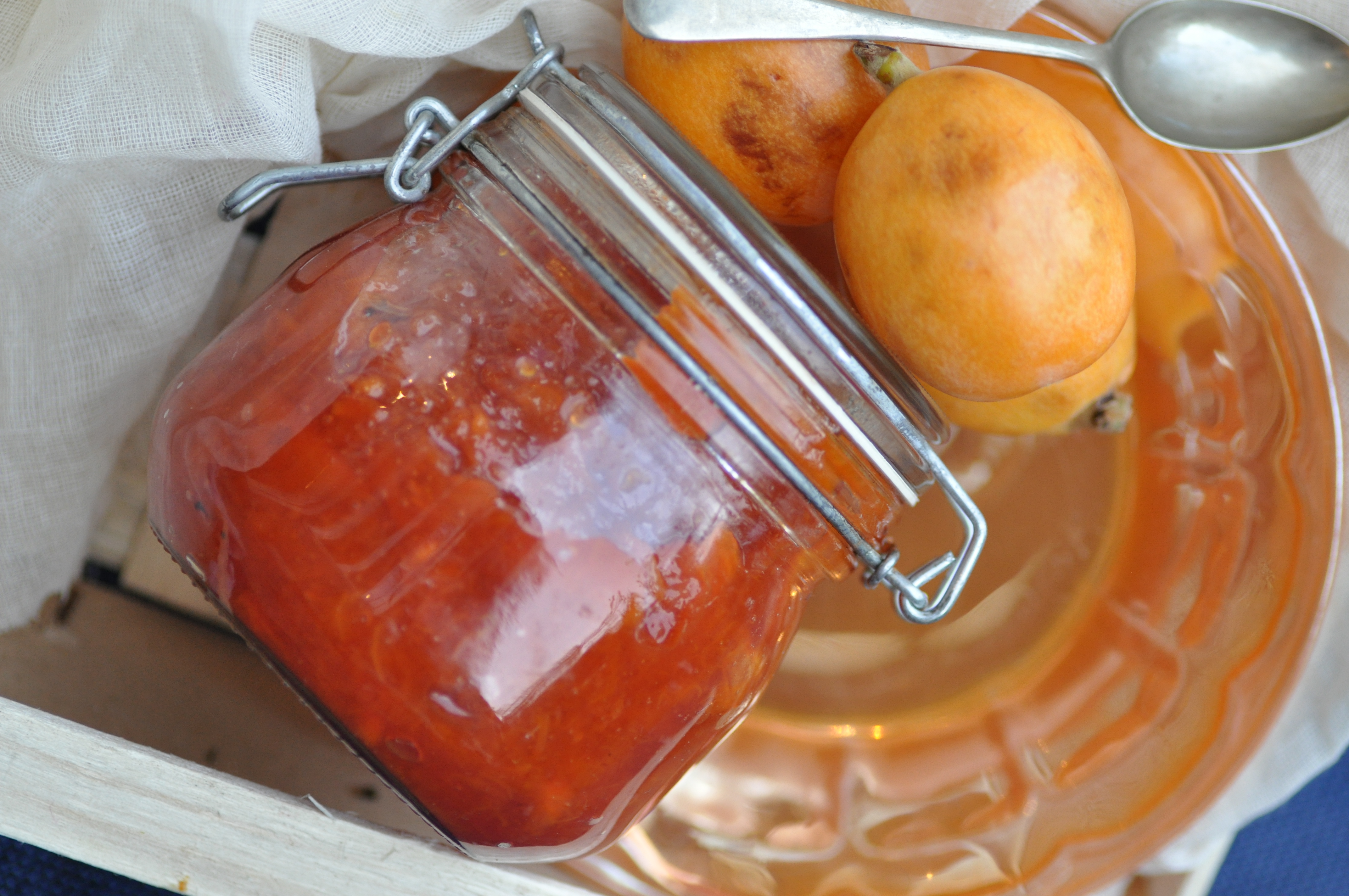 Our loved naspli (loquat is the English term) is usually eaten whole but I have made this wonderful loquat jam with a touch of rosewater and lemon. Read more to find out what I did with this jam  and how I made it. The high pectin content of loquats means it sets very easily. 
Loquats are believed to have come from either Japan or possibly China and have since successfully been cultivated in some parts of the Middle East, the Far East, the Southern United States and the Mediterranean. Once ripe the yellow fruit is deliciously sweet and is usually just eaten whole in our culture. It contains large seeds inside the fruit but these are easily removed.
Loquats can be made into pies, jellies, chutneys or jams. I have also seen it used in chicken recipes. I have decided to use my loquats to make a jam. I used the jam to fill some macaroons with vanilla custard! I have not included my recipe for macaroons or custard but if you would like it then please send me an email and I will be more than happy to send it to you. If you don't want to fuss with making macaroons, it goes great with just vanilla custard on its own and you can add some crushed meringue on top too.
If you have a surplus of loquats on your tree like we used to do growing up then this jam is great to try. I have added rosewater to my jam but you can also add vanilla essence or vanilla bean seeds, and even some cinnamon if you wish.
Loquat (naspli) jam with rosewater
I have lifted this loquat jam by adding some rosewater and lemon juice but you could also add vanilla essence and cinnamon instead if you wanted. Great served on bread, scones or similar. This jam also goes great with vanilla custard and meringue.
Author:
www.amaltesemouthful.com (Marlene Zammit)
Ingredients
1 kg loquats trimmed and seeds removed
500 grams sugar
2 tablespoons rosewater
½ zest and juice of a lemon
Instructions
Place all ingredients into a saucepan and bring to a boil.
Reduce temperature immediately and simmer for two hours.
Stir often.
Place in a small sterilised jar and leave in the fridge.