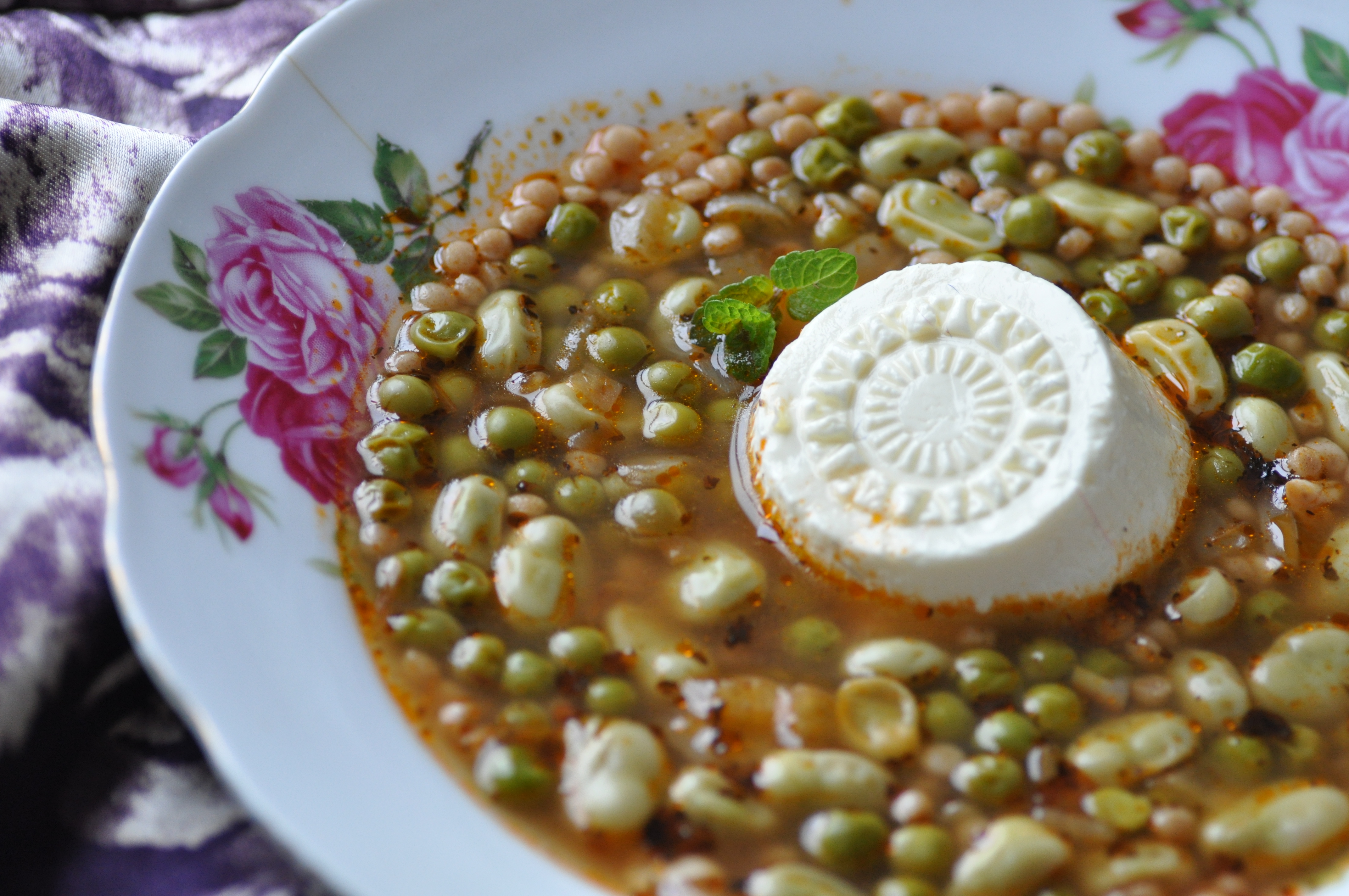 Maltese kusksu is a wonderful heartwarming soup. Made with broad beans, peas, giant couscous and, as an extra option Maltese cheese and eggs can also be added. I also added a teaspoon of dried mint to mine. Happy 2016 everyone. This is going to be my month of Maltese soups.
Whenever I make kusksu I wonder where this soup originated from. No where else in the world or close to Malta has anything similar. It suggests an Italian origin but a Middle Eastern origin also.
The small semolina or wheat beads used in this soup are known as either giant couscous, Israeli couscous, pastina or pearl pasta. There are many other terms too. I also note that apparently there are differences between these too but any one of them can be used in this soup. I have used wholemeal giant couscous in my kusksu.
I made this soup yesterday and we had it for lunch and dinner. At lunch time I added in some Maltese cheese and then in the evening when I went to warm the pot up, I added in some eggs. This is optional and if you don't have Maltese cheese then ricotta works well too. Another addition I added to this soup was a hint of dried mint. I have seen it made with bay leaves and even parsley. Some kusksu I have tried also include potato and carrots. I don't think it is necessary but the choice is always yours.
This really is a beautiful soup and perfect for the colder weather. I used frozen peas and broad beans in my soup as they are currently not in season. If you have fresh then go ahead and use them too.
I dedicate January to the month of soups. Not because I am detoxing in any way, but just because I feel like it! Perhaps I am feeling a little guilty about Christmas and my sisters wedding is this year in October, but soup really is exactly what I feel like right now.

Kusksu
A beautiful heartwarming soup made with broad beans, peas and giant couscous. You can also add in Maltese cheeselets and eggs. I have added a touch of dried mint too. I used frozen broad beans and peas as they are not in season but you should use fresh if possible.
Author:
www.amaltesemouthful.com (Marlene Zammit)
Ingredients
1 onion finely chopped
3 cloves of garlic
1 tablespoon tomato paste
1 teaspoon mint
350 grams broad beans (frozen or fresh)
300 grams peas (frozen or fresh)
1.5 litres chicken or vegetable stock ( I used both)
150 grams giant couscous (I used wholemeal but you can also use white)
4 to 6 Maltese Cheeselets (or fresh ricotta to serve) - optional
4 to 6 eggs - optional
Mint and grated parmesan to serve
Olive oil
Salt and pepper
Instructions
In a large pot fry the onion with a good dose of olive oil for about five minutes.
Add in the garlic, tomato paste and mint. Fry for 1 minute.
Add the broad beans, peas and stock.
Bring to a boil and simmer for fifteen minutes.
Add in the giant couscous and simmer for fifteen minutes.
If adding in eggs, gently crack open and put in with the couscous.
Add in the Maltese cheeselets and cook for a further ten minutes.
When serving provide each plate with a cheeselet and egg if using. If not using the cheeselet then place a dollop of ricotta into the bowl instead.
Season and sprinkle some parmesan and fresh mint on top.