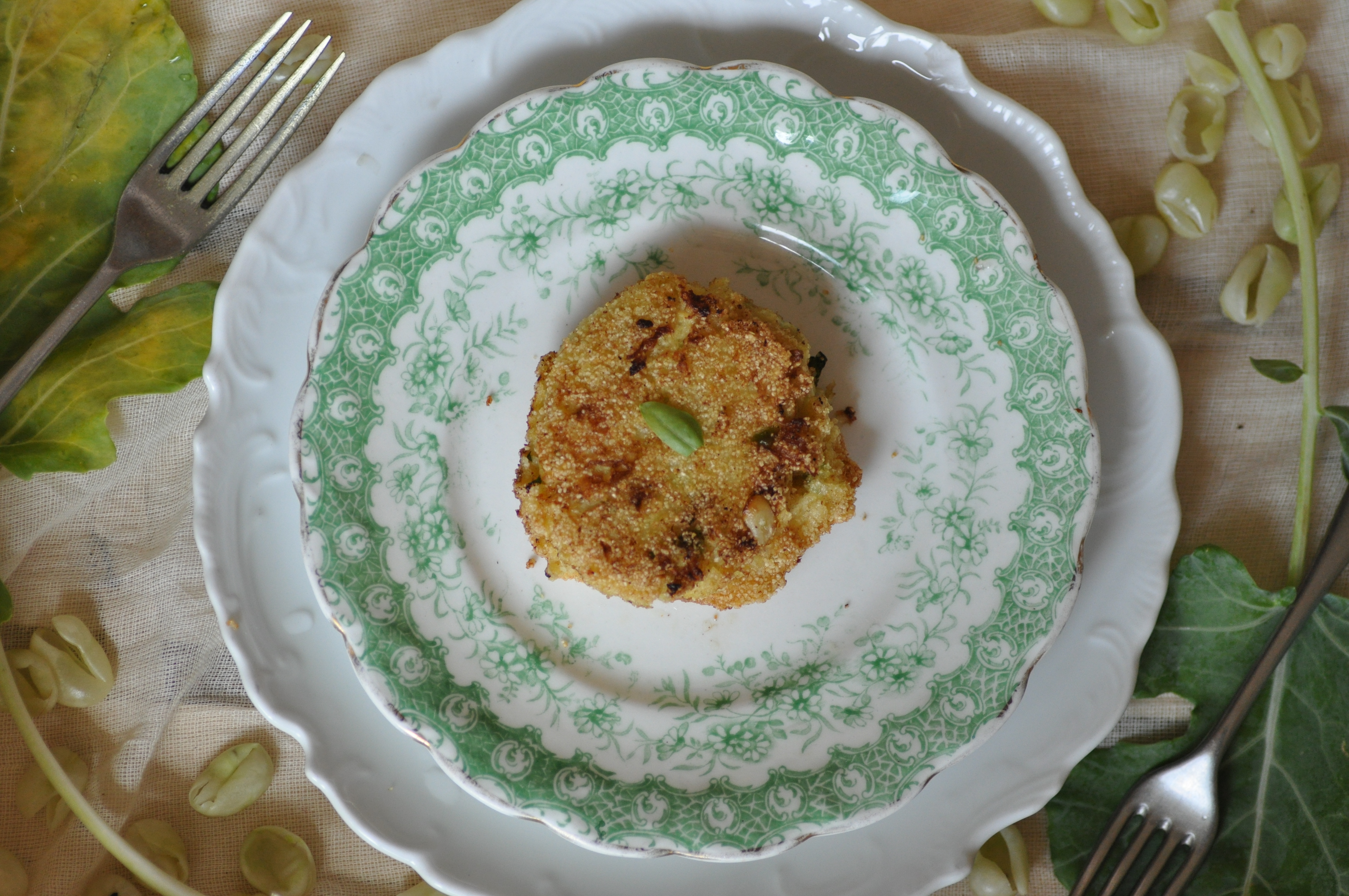 Kohl rabi is used in Maltese cuisine mainly in our traditional soups, but these fritters are a nice change and ideal for spring. I have also added broad beans which is another great vegetable used in many Maltese dishes. 
Wonderful kohl rabi (it is bred directly from wild cabbage – brassica oleracea) has featured on my blog before. When eaten raw it has a sharp tang, a little like radishes. However, when cooked it has a much milder flavour. We usually use kohl rabi in soups, and sometimes we even fill them with mince. We used to grow this vegetable at home on our farm which we used to put in our minestra or widow's soup.
I was lucky enough to purchase some recently with the leaves still intact. A nice change to seeing the bulb only being sold.
I thought it was worth trying to use this vegetable slightly differently but still make a recipe which was Maltese inspired. Fritters (pulpetti) came to mind and I then thought of combining the vegetable with broad beans. Broad beans are also distinctively used in Maltese cooking (as well as other Mediterranean and Middle Eastern cuisines). I have coated the fritters in semolina instead of bread crumbs for a change and everything seems to compliment each other perfectly. The semolina gave the fritters a crunchy texture which I felt was much needed.
Enjoy the recipe!

Kohlrabi fritters (pulpetti) with broad beans
Kohlrabi fritters with broad beans are a great way to enjoy these wonderful Spring vegetables. A nice change to the other great Maltese dishes in which these vegetables are used.
Author:
www.amaltesemouthful.com (Marlene Zammit)
Ingredients
3 kohlrabi bulbs grated
1 onion grated
2 cloves garlic chopped
200 grams broad beans skins removed and chopped
Small bunch parsley chopped
10 tablespoons grated parmesan cheese
6 eggs lightly beaten
Salt and pepper
Course semolina
Olive oil for frying.
Instructions
Place the kohlrabi, onion, garlic and broad beans in a large medium mesh strainer (you may need to do this in small batches).
Squeeze out as much excess liquid as you can and place the vegetables in a separate bowl. You can use the liquid in a soup.
Once you have finished squeezing all the liquid out from the vegetables add in the parsley, cheese and 3 beaten eggs.
Season with some salt and pepper.
Mix well together.
Now take a medium sized handful of the mixture and form into a flat ball.
Dip into the remaining beaten egg and then dip into the semolina.
Fry in a pan with a shallow amount of olive oil on medium heat.
Fry on each side for about 8 minutes until golden brown and cooked through.
Serve warm or cold.