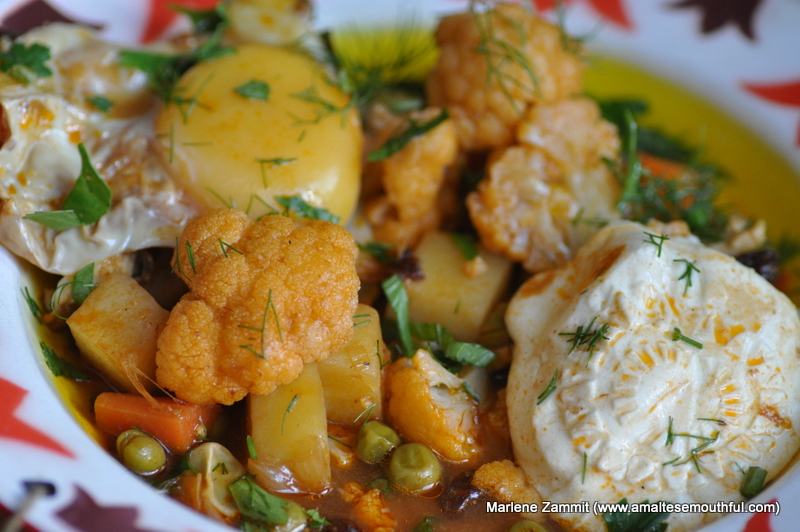 This is a dish I have enjoyed time and time again. Cauliflower is the main ingredient in this dish. The added spices of coriander seeds, cumin seeds, fennel seeds and some curry powder really enhance this dish to another level. Raisins are also an added option but they work!
Can be served with eggs, Maltese cheeselets (gbejniet) and even tuna or salted cod.

Cauliflower Stew (Stuffat tal-pastard)
A wonderful way to make use of cauliflowers. The addition of cumin seeds, coriander seeds and fennel seeds enhance this dish to another level. Another option is also adding some chopped mint. Raisins are optional extra. It does work! Can be served with eggs, maltese cheeselets and/or tuna
Author:
Marlene Zammit (www.amaltesemouthful.com)
Ingredients
Olive oil
1 onion diced
Half a leek sliced thinly
2 tablespoons kunserva (tomato puree)
2 cloves garlic
1 tsp each of cumin seeds, coriander seeds and fennel seeds ground lightly in a pestel and mortar.
Pinch of curry powder
2 Bay leaves
10 green olives chopped
Handful of raisins (optional)
Medium sized cauliflower chopped into medium sized florets
200 grams broad beans or peas (or both)
1 carrot diced
2 potatoes peeled and diced
500 ml good vegetable stock
4 eggs plus 4 Maltese cheeselets (fresh gbejniet)
Salt and pepper
Olive oil
Parsley to garnish
Instructions
In a large frying pan (that has a lid) place a good amount of olive oil.
Once the pan is hot add the onions and fry for about 3 minutes.
Add in the leeks, tomato paste, garlic, spices and bay leave. Fry for a minute or 2.
Add all the vegetables plus raisins and olives. Fry until all coated with oil and spices.
Season with some salt and pepper.
Add in the stock and bring to a boil. Immediately cover with the lid and simmer for 30 minutes.
The potatoes should then be cooked through.
Remove the lid and if using add in the cheeselets and eggs on top. Cook on a medium heat for a further 15 minutes.
The liquid should have reduced down.
Serve with your eggs, cheeselets or tuna, and some wonderful crusty bread!