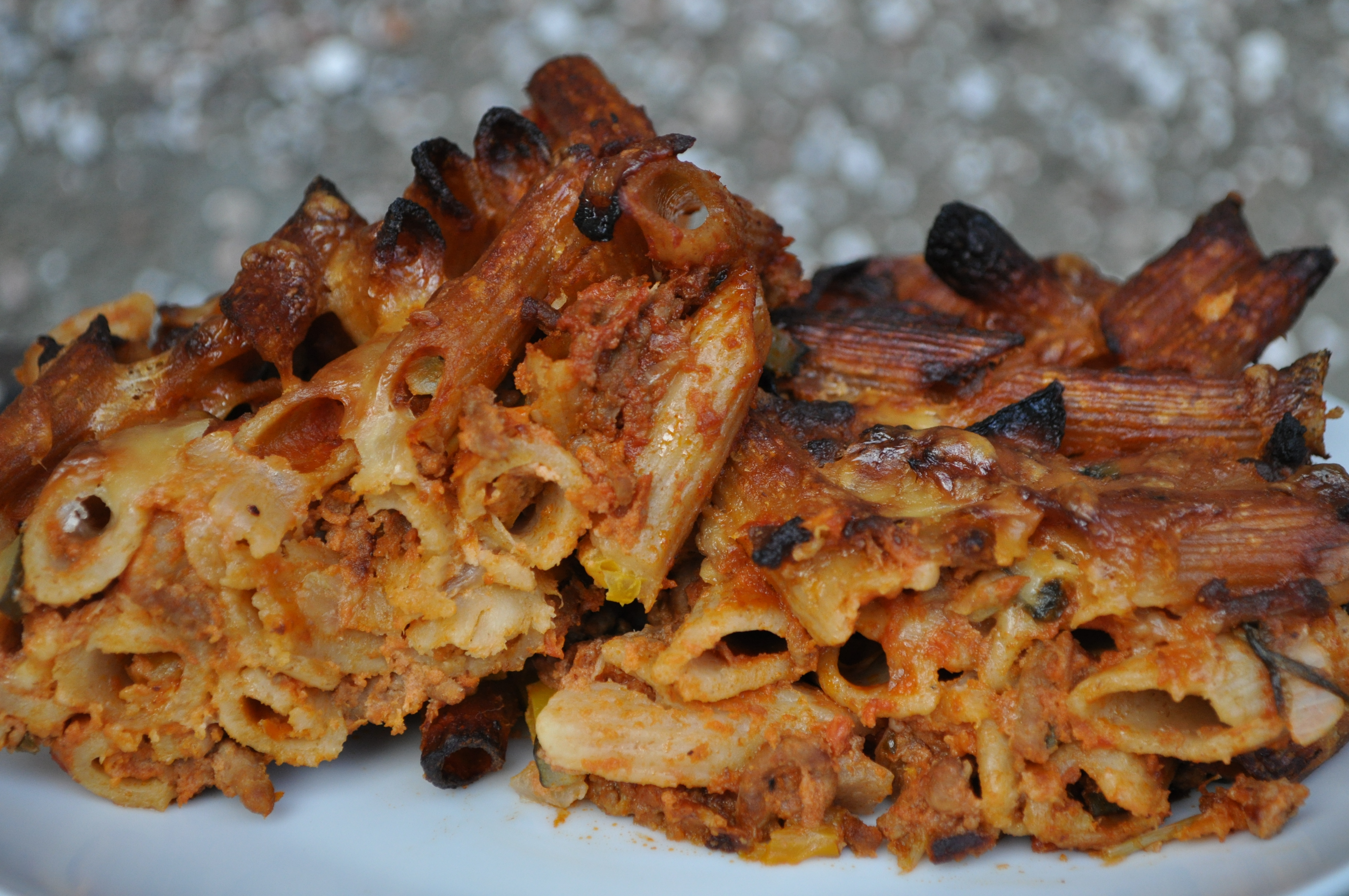 Baked pasta (ghagin) or baked macaroni (imqarrun) as it is mainly known is another dishes we associate as being truly Maltese. It is either made with white penne or rigatoni pasta but this time I used wholemeal penne!
Whether it was a Christmas family gathering, a Maltese festival or any other family gathering, we always had this on the menu. It is another traditional Maltese dish which is traditionally served on the weekend or at least once a week. And if you are being a bit more fancy then you can bake this dish by encasing it in shortcrust pastry, we call this timpana. My family have never really done it this way but I see it so often in Malta when I visit.
The recipe is basically a bolognese sauce with eggs and cheese, mixed with penne or rigatoni and then baked in the oven. I have seen hard boiled eggs added and even frozen peas which I quite like but didn't add in this time. A great hearty meal for the family.

Baked Pasta (macaroni) - Ghagin (Imqarrun) il-Forn
Rabbit may be the Maltese national dish but baked pasta (ghagin il-forn) comes a close second.
Author:
www.amaltesemouthful.com (Marlene Zammit)
Ingredients
500 grams mince
500 grams penne or rigatoni pasta
2 onions diced finely
3 cloves garlic finely sliced
2 tablespoons tomato paste
1 courgette diced
1 red,green or yellow pepper diced
100 ml beef stock
6 chopped tomatoes
4 lightly beaten eggs
4 tablespoons grated cheese plus another two tablespoons for the top
Small bunch of oregano chopped
Handful of frozen peas (optional)
2 hard boiled eggs chopped (optional)
Salt and pepper
Olive oil for frying
Instructions
In a large frying pan fry the onion and garlic for about five minutes or until soft and starting to brown.
Add in the mince and oregano and fry for ten minutes.
Fry the tomato paste for 1 minute and then add in the courgette and peppers. Fry for a further ten minutes.
Add in the beef stock and chopped tomatoes. Bring to the boil and then simmer for 30 minutes.
While this is happening boil the pasta for about 8 minutes. A little less than al dente (once in the oven it will cook further). Drain immediately and set aside.
Preheat oven to 180oC.
Once the mince has finished simmering add the pasta, beaten eggs, 4 tablespoons of grated cheese, frozen peas and hard boiled eggs. Season with salt and pepper.
Gently mix so as to not break the pasta and place in a large baking dish.
Sprinkle grated cheese on top and place in the oven for 45 minutes to an hour.