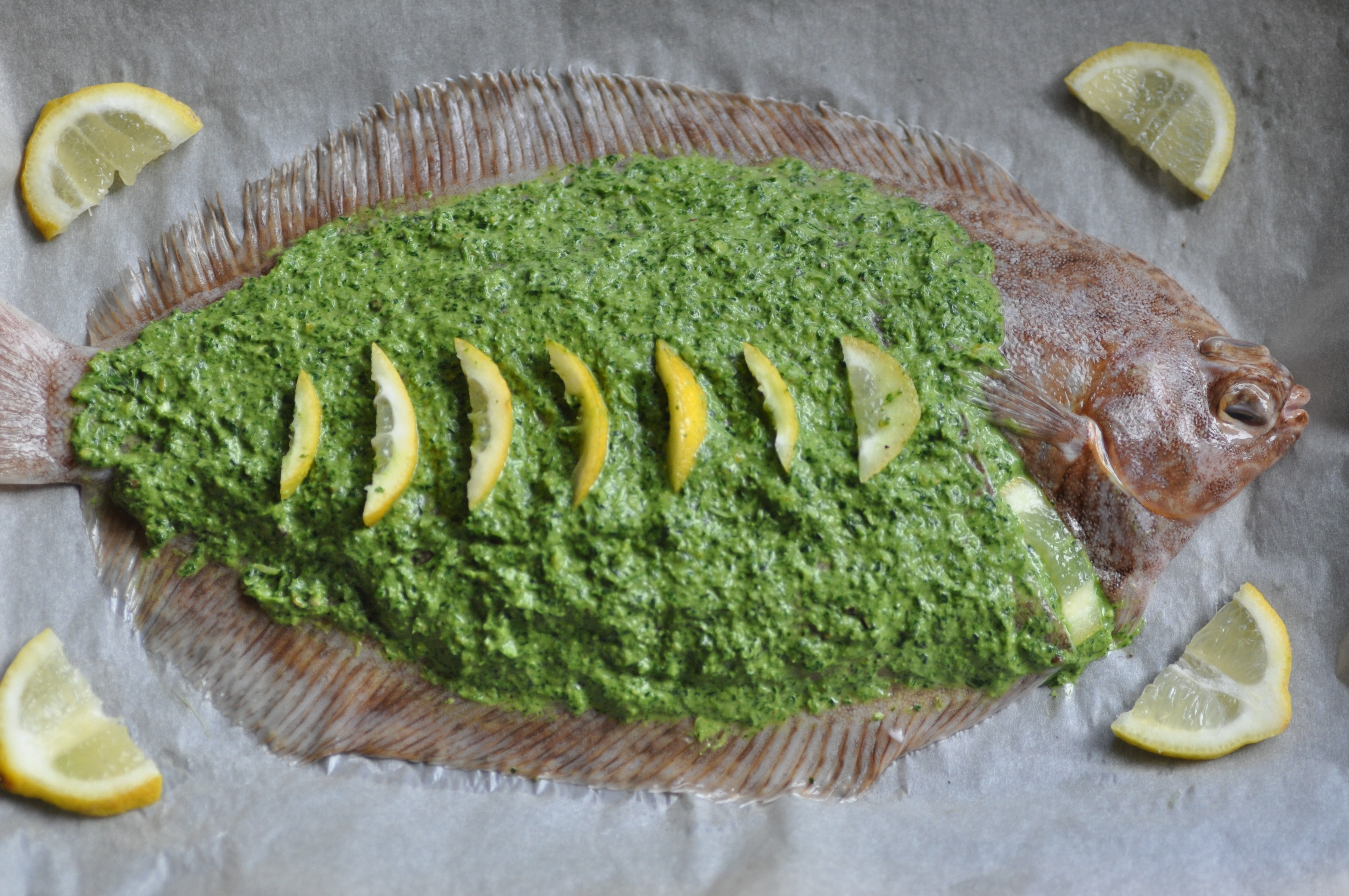 Baked lemon sole with a green parsley dressing! Perfect for Good Friday or whenever you feel like fish.
This time of year is the beginning of my obsession with seafood. Easter in our tradition, in the past, was all about limiting meat during Lent and eating more fish/seafood vegetables. While these days some people still fast, others choose to sustain from other things during this time. Whatever your choices are, this is a great way with fish!
I like to use flat delicate fish for this recipe such as sole, plaice or flounder, to name a few. However, this goes well with other fish such as bream or sea bass.
Malta as you would know is an island surrounded by sea and our love of seafood has always come because of our location surrounded by sea in the mediterranean. There are many fish recipes which I have come to know over the years as Maltese, however this way of preparing fish still uses the most common ingredients found in Maltese kitchens – parsley and garlic. Commonly, parsley and garlic are chopped and placed inside the open cavity of the fish. However, I love this alternative for a change, and it is perfect for fish such as lemon sole.
I recently made this recipe for some friends who came over one afternoon and we all really enjoyed it.
Have a great Easter break if you are celebrating and do try this way with fish if you get the chance!!

Baked lemon sole with a green parsley sauce
This time of year always means fish and seafood for me. A perfect recipe for Easter and Good Friday
Author:
www.amaltesemouthful.com (Marlene Zammit)
Ingredients
2 Lemon sole (Ask the fishmonger to gut your fish)
1 bunch parsley
1 lemon (1 quarter for the dressing)
2 spring onions
1-2 cloves garlic
Seasoning
Olive oil
Instructions
Preheat oven at 180oC.
With a hand blender, pulsate the parsley, 1 quarter lemon, 2 spring onions, garlic and a few tablespoons olive oil.
Add some seasoning.
Place all over the lemon sole which have been placed on baking trays with some baking paper or foil.
Squeeze over some lemon juice, sprinkle a little more olive oil and seasoning.
Place in the oven for 25 - 30 minutes (or until fish have been baked).
Serve with some potatoes and greens of your choice.